ABDO launches spellbinding new hi-lo fiction imprint
August 24, 2016
Minneapolis – ABDO (abdopublishing.com), a leading educational publisher, introduces a new imprint to its Magic Wagon illustrated titles division.
Spellbound features high-interest, low-level (hi-lo) titles written at a second grade reading level but aimed at a middle-grade interest level.
"We wanted to reach a group of students who are older, but are reading below level," said Megan Gunderson, Editorial Director of Magic Wagon & Spotlight at ABDO. "Teenage readers who are not yet ready for books that are traditionally aimed at them."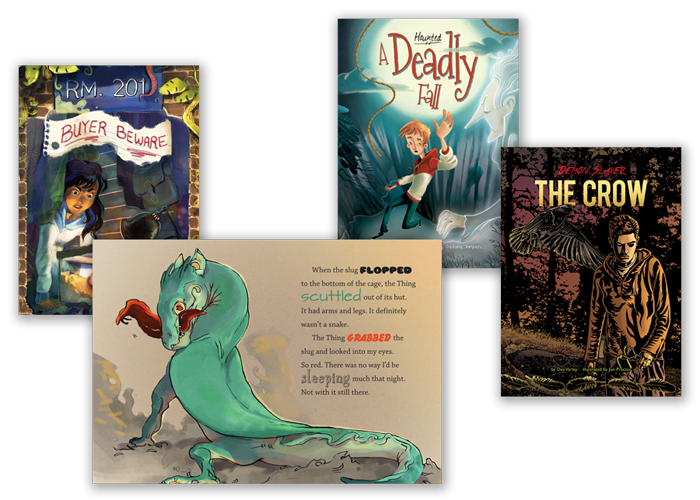 Books at this lower reading level are typically written for a very young audience, Gunderson added. Spellbound aims to bridge the gap, giving older readers story lines that would be attractive to a teenage reader, with characters their own age, but at a level that meets their needs.
A September 2013 Huffington Post article cites a study conducted by the Department of Education and the National Institute of Literacy that found 21 percent of American adults read at only a fifth grade level, while 19 percent of high school graduates can't read.
"As an organization dedicated to literacy, we wanted to do something to help with this issue," said Editor-in-Chief Paul Abdo. "We decided to help meet readers where they are, with stories they would want to read."
Beyond the stories themselves, the compact format of the books aims to appeal to older readers. Font choice and strong full-color illustrations assist the reader.
"Using callout words in unique fonts reinforces meaning and provides additional visual context," said Art Director Candice Keimig. "Readers can interpret what a word means by how it looks on the page."
The imprint's inaugural fall 2016 season features three series: Demon Slayer, Haunted, and Rm. 201. More are planned for the spring and subsequent seasons.
Magic Wagon, a division of ABDO, is dedicated to creating diverse and inclusive titles with original illustrations and story lines that inspire learning and imagination.
About
ABDO
ABDO, a family-owned company, has been publishing educational materials for more than 30 years, including library-bound hardcover editions and a variety of digital products. The company is comprised of five divisions: Abdo Publishing, Magic Wagon, Spotlight, Abdo Kids, and Abdo Digital. For more information, visit ABDO online at abdopublishing.com.